Fantasy Football Draft Board for Your 2023 Party!
Top Rated Fantasy Label Design
Bring your fantasy draft party to the NEXT-LEVEL with our trend-setting label design available with all 2023 fantasy football draft board kits.
With outrageous constrast and clarity, even a ref can read the labels from a distance!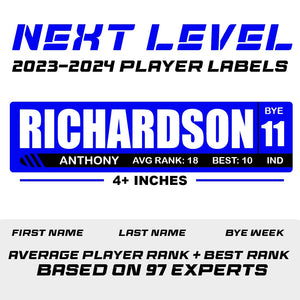 Exclusive Parter with Gorilla Tubes!
Protect your fantasy football draft board with our exclusive premium Gorilla Tube shipping option.
- No unfolding (none).
- No creases (zero)
- And Yes, It's Guaranteed.
Premium draft boards deserve premium shipping.
The Ultimate Offline Fantasy Draft Party Guide
Why 360 Fantasy Football Draft Boards?
As the unrivaled leader in offline draft kits, we bring an unparalleled experience to your draft day, transforming it into an unforgettable event that fuels excitement, camaraderie, and strategic rivalry among your league members!
What sets 360 Fantasy Football Draft Boards apart is our commitment to craftsmanship and innovation. Our meticulously designed draft boards are not just tools; they're masterpieces that enhance the entire draft experience. Crafted with a keen eye for detail, each board can proudly displays player names, positions, team affiliations, and vital stats, ensuring you have all the information you need at your fingertips.
But it doesn't stop there. We understand that personalization adds that extra layer of enthusiasm to your league's draft day. That's why 360 Fantasy Football Draft Boards offers customizable options that reflect your league's unique identity. Incorporate your team logos, colors, and even inside jokes, making your fantasy draft board a true reflection of your league's character.
With 360 Fantasy Football Draft Boards, you'll experience the convenience of a digital draft in an offline setting. Our easy-to-use player stickers + the 36" ranking big board allow you to mark off drafted players efficiently, keeping the excitement levels high and the draft moving smoothly.
As the pioneers of offline draft kits, 360 Fantasy Football Draft Boards embraces tradition while embracing technology. Our boards seamlessly combine the tactile joy of a physical draft with the digital efficiency of modern times. It's the best of both worlds, delivering a draft day experience that leaves a lasting impression.
When you choose 360 Fantasy Football Draft Boards, you're not just selecting a draft tool; you're investing in an experience that celebrates the essence of fantasy football. With us by your side, your draft day becomes a legendary tale recounted year after year—a story etched on the canvas of the most extraordinary draft board.
Elevate your draft day, unleash the spirit of competition, and make memories that resonate for a lifetime with 360 Fantasy Football Draft Boards—the name that resonates with every fantasy football aficionado.
Frequently Asked Questions 
Question 1: What is a fantasy football draft board, and why is it important? 
Answer: A fantasy football draft board is a visual tool used by fantasy football leagues to track player selections during the live draft. It's crucial as it keeps everyone organized, engaged, and ensures the most important day of the year (draft day) goes off without a hitch!
Question 2: How do I create a fantasy football draft board? 
Answer: Creating a custom fantasy football draft board is simple. Simply choose the board style (with or without a thick border), choose your background image, select the number of teams and rounds, add your league name and BOOM, you're done. 
Question 3: Should I personalize my fantasy football draft board? 
Answer: Absolutely! Personalizing your draft board adds a unique touch to your league. Incorporate team logos, colors, and even inside jokes among league members to make it more fun and engaging.
Question 4: How do I keep track of drafted players on the board? 
Answer: As players get drafted, mark them off on the 36" Ranking Big Board. You can also use various digital tools to clearly indicate which players are still available and which have been selected.
Question 5: How can I make the draft board exciting for my league members? 
Answer: Inject some excitement by adding a countdown timer for each pick, playing celebratory music when someone drafts a player, or even incorporating friendly wagers that make each selection more thrilling.
Question 6: Are there draft strategy guides that can help me during the draft? 
Answer: Yes, numerous resources offer draft strategy tips, including player rankings, sleepers, and potential busts. Utilizing these guides can give you an edge in making informed decisions.
Question 7: What do I do with the draft board after the draft is over? 
Answer: The draft board can serve as a memento of the draft day festivities. Keep it as a reminder of the exciting event or frame it and present it to the winner during your league celebration party! We highly recommend keeping all old fantasy football draft boards!