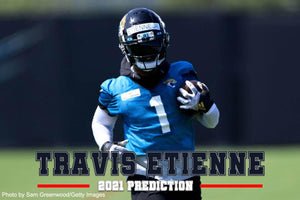 Travis Etienne Fantasy Football: The 2021 NFL Offensive ROTY & #1 Fantasy Dynasty RB
Our Predictions:
Travis Etienne will be THE 2021 NFL Offensive ROTY
Travis Etienne will be the #1 Fantasy Dynasty RB drafted in 2021. 
Twice he was the ACC's Player of the Year and a consensus All-American. That led to his being selected No. 25 overall in the 2021 NFL draft by the Jacksonville Jaguars. That would be the same team that picked his college teammate, QB Trevor Lawrence. 
Travis Etienne is as dynamic a running back as there is in the NFL. He will prove this season as he puts on a show in becoming the 2021 NFL Offensive Rookie of the Year. It's also why Etienne should be the top running back selected in your fantasy football dynasty league.
Travis Etienne: Player Skill Set + Offense
Etienne is a prototypical running back in that he is solidly built at 5-foot-10-inches and 220 pounds. He possesses outstanding top end speed for someone of his size. Etienne ran 4.41 in the 40-yard dash at his pro day workout. 
He's big and fast, but Etienne is much more than just a running back. Yes, he did average roughly 8.0 yards per carry as a sophomore and junior at Clemson, but he was also a big part of the Tigers passing game. As a senior in 2020, Etienne caught a career-best 48 passes for 588 yards. 
Now, not only do you have a power back that can gain tough yards inside the tackles on first and second downs, you also have a guy that can stay on the field in third down situations and catch passes out of the backfield. 
Add Etienne's skill set to new Jacksonville head coach Urban Meyer's offense and you have the perfect opportunity to put up some terrific rookie numbers. Think back to Meyer's teams at Ohio State. Remember guys like J.K. Dobbins ran for 1,000-plus yards but also caught between 20 and 30 passes per season. Etienne will have plenty of opportunities to carry the football and contribute as a receiver.
During the Jags most recent mini-camp, Etienne lined up at receiver more than he did at running back. It's another element that the former Clemson star provides. He can operate out of the slot or even out wide and has the speed and skills to be effective. Meyer wanted him to get more work as a receiver since he would be used a lot in the passing game this season. That is a big hint as to what Etienne could potentially do in 2021. 
Travis Etienne: ROTY 2021
Historically, quarterbacks and running backs have the best shot at winning a Rookie of the Year award. The last two seasons – Justin Herbert and Kyler Murray – it has been quarterbacks. The two seasons prior to that, it was two consecutive running backs – Saquon Barkley and Alvin Kamara. 
Barkley had a phenomenal rookie campaign with 1,307 yards rushing, 91 catches for 721 yards, and 15 total touchdowns. Kamara ran for 728 and had 826 receiving yards and averaged a whopping 6.07 yards per carry. If Etienne comes even close to those numbers, he'll be the favorite to win ROTY.
Travis Etienne: Dynasty Fantasy First Pick 2021
It makes sense to draft a quarterback first if you are in a superflex league. One could argue for this season if you are in a TE Premium format drafting Kyle Pitts first makes great sense since TEs get 1.5 points per reception.
In every other case though, it is clear as to whom your first pick should be – Etienne. Najee Harris will be getting plenty of love in Pittsburgh, but the Steelers aren't the same offense that used to throw to Le'Veon Bell a zillion times a season. Last year, James Conner – now in Arizona – was sixth on Pittsburgh's receiving list. Four wide receivers and TE Eric Ebron finished ahead of him and his 35 catches. 
In Jacksonville in an Urban Meyer-offense, Etienne stands to be the team's leading rusher and one of its leading receivers. If Meyer chooses to use Etienne as a third or fourth wide receiver in some sets, he will definitely have the opportunity to add to his numbers.
Plus, Etienne has no history of injury. He tweaked a hamstring in 2017, but because of a bye week was ready for the Tigers next game. Other than that, Etienne has remained healthy through high school and college. He is durable and doesn't miss games. For dynasty leagues, this is huge as you carry rosters from season to season. Not only do you have an outstanding performer that scores a lot of points, you have him for the next several years. 
With running backs a dime a dozen, it pays to get them early and keep them while they are in their prime. That's about where Etienne is after playing a full four years of college. He is 22 right now and won't turn 23 until next January.
In Meyer's offense, Etienne will get all the touches he needs to make a strong push and eventually capture the 2021 Offensive Rookie of the Year award. If you have the opportunity to draft him for your dynasty fantasy football league, take him. He's going to score a lot of points.
---