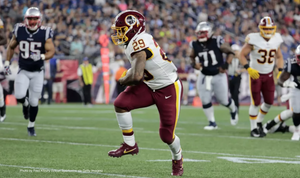 Fantasy Football Sleepers 2019 PPR RB
You've heard it over and over again. 
"There are no sleepers anymore". 
"A sleeper RB is based on their ADP".
"True sleepers don't exist anymore".
Enough is enough! There are TONS of sleepers at the RB position for PPR leagues in 2019. If you buy in to the notion that there aren't any sleepers at the position, you're flat out wrong. If you think that you can't draft a sleeper in 2019 to help you win your league, you've already lost!
We've identified some of the top sleepers at the RB position below. To help you make the best decisions on draft day, we've also provided a recommendation on when to draft these guys. 
Top Fantasy Football Sleepers RB - 2019 PPR Leagues
Sleeper 1: Royce Freeman
Draft Royce Freeman in the 6th round. He's going to win you your fantasy league. We're planting our flag in Freeman as being a legit RB1 in 2019 in PPR leagues. 
He's been explosive so far in Pre Season, and don't forget, he was drafted to be a bell-cow back. 
Sure, Phillip Lindsay stole the show in 2018, but that just means that Freeman will be off the radar in 2019. His vision, explosiveness, and general football instincts are some of the reasons why he was an absolute stud in college. 
You're not stopping this @rolls_royce21.

TOUCHDOWN, @Broncos! #BroncosCountry #KCvsDEN

📺: ESPN pic.twitter.com/KSIDetCGRd

— NFL (@NFL) October 2, 2018
Royce Freeman is the 39th ranked RB in PPR as we enter the 2019 NFL season, which is prime sleeper status.  
Sleeper 2: Marlon Mack 
Draft Mack in the 2nd or 3rd round. Don't think about it, just do it!
The Colts want to feed Mack as much as possible. With Andrew Luck nursing a calf injury to start the year, Mack will be expected to carry a heavy load. 
Did you know that Mack was given 20+ touches more often than any running back in football last season, aside from Zeke? He's a better receiving back than he's given credit for as well. You might be scared of Nyheim Hines, given the fact that he was a target monster last year, but Mack is the man in Indy. The Colts are a better offense when Mack has the ball in his hands, and that's exactly what they will do in 2019. Mack was not a highly touted guy out of college. He's not a sexy pick in fantasy. But he will help you win your league. 
Oh Marlon Mack.

He's fancy 😲

📺: #INDvsHOU on ESPN/ABC #NFLPlayoffs pic.twitter.com/JOwWLO9h1v

— NFL (@NFL) January 5, 2019
Tell me you don't want Marlon Mack on your fantasy football team in 2019! I dare you.
Mack had a 65% catch rate in 2018, an improvement from the previous year. I see Mack as a sure-fire top 10 RB, and he's currently the 17th RB off the board. Draft this guy early and often. You'll be glad you did. 
Did you get lost thinking about Mack? Let's come back to reality. You're still reading our blog post titled, Fantasy Football Sleepers 2019 PPR RB.
Sleeper 3: Duke Johnson 
Duke Johnson has a new home in Houston, and he's primed to steal the show in 2019. We're salivating just thinking about how many targets Johnson is going to get from Watson. Duke has always had exceptional talent, but never had a good opportunity to shine. The Texans traded a good pick to get Johnson, indicating that he'll have a large role in 2019.
The Texans also got rid of Foreman, which creates even less resistance to playing time. Duke is a pass catching superstar, and the Texans have never had a RB like him. Ever.
Don't wait too long to draft Johnson in your 2019 PPR league. With an ADP of 157 and a RB rank of 56, Johnson comes at a low price. That's exactly what you want when trying to find a sleeper RB in PPR leagues! 
If you're in a PPR league, draft Johnson no later than the 10th round in 2019. It doesn't even matter if you could have gotten him in the 13th, he's worth the investment.
Duke Johnson goes for 21 yards! 🙌 pic.twitter.com/6n2DFrCTKv

— Cleveland Browns (@Browns) December 23, 2018
Sleeper 4: Carlos Hyde
Mark my words. Hyde will be the bell cow back in KC by the end of 2019. 
Any RB in Kansas City is going to have success, and Hyde will be the primary beneficiary of this. We're not excited about his skillset as a PPR RB, but the volume, opportunity, and high scoring offense will ensure Hyde finishes as one of the top values of the 2019 fantasy season. We're projecting Hyde to get double digit TD's. 
Carlos Hyde is EATIN' 😤 @elguapo (via @Browns) pic.twitter.com/JBsAsOTWPP

— Overtime (@overtime) August 18, 2018
There's nowhere for us to Hyde from this bold statement. RB1 Carlos Hyde 2019. 
He's the 47th ranked RB as of today, which is a shame. Then again, you can grab him for basically nothing. Don't play games and wait too long in your fantasy draft. 
We're taking Hyde in the 11th. People will look at us funny. That's a fact. We'll be laughed at, no question. At the end of the year, though, we'll be the one laughing at everyone else as we raise our fantasy football championship belt over our head. 
Other RB Sleepers Worth Drafting in your PPR League
Chris Carson - If he's still available in the 4th… Draft him. Don't miss out
James White - We feel comfortable drafting White in the 5th round. PPR machine with an ultra-safe floor. 
Lamar Miller - Why does everyone hate Lamar Miller? Draft him in the 8th. Johnson and Miller are a great stack if you go Zero RB. 
Derrius Guice - He's going to surprise a lot of people in 2019. Draft him in the 10th. Peterson doesn't have much left in the tank. 
AVOID THESE GUYS LIKE THE PLAGUE:
Thinking about drafting these guys makes me want to vomit.
Damien Williams

Phillip Lindsay

Mark Ingram

Josh Jacobs

Damien Harris
---